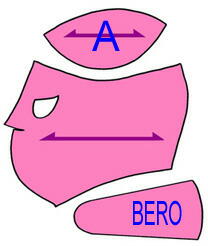 最初に型紙に合わせて生地を裁断しましょう。

伸びる素材を使います。(矢印の方向が伸びる向きです。

上の部分は↑↓でもOK!)

べロ部分は特に伸びる向きは考えなくて良いです。

According to a paper pattern, let's judge cloth first. The extended material is used.

It is the direction to which the direction of an arrow is extended. ↑↓

of the upper portion is also OK!

It is not necessary to consider the direction to which especially a BERO

portion is extended.

BERO is a reliance cloth for a string not being involved in the hair of hair.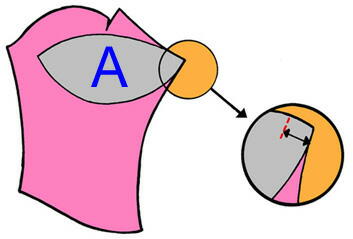 裁断が終ったらそれぞれを縫い合わせてください。

最初は皿の部分と顔部分を縫い合わせます。*ピンクが表でグレーは裏です。

この時、皿部分の上下を間違えないように注意!(緩やかな曲線のほうが上です)

重ねて5ミリ位の所を縫っていきます。

Please sew each up, if decision finishes. The portion and face portion of a plate are sewn up
at first. Pink of a gray is the reverse side in a table. At this time, it is careful of the upper
and lower sides of A portion to prevent mistakes (the way of a loose curve is a top)! The
place of 5mm grade is sewn in piles.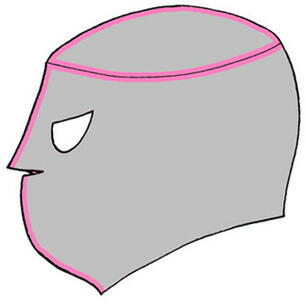 次に左右を縫いましょう。(上と同じように5ミリ位の所を)

後頭部はヒモ通しを付けるので縫わなくて良いです。(鼻の所も)

Next, let's sew right and left. (a top -- the same -- place of 5mm grade)

Since the back of the head attaches string through,

it is not necessary to sew it (Also place of a nose)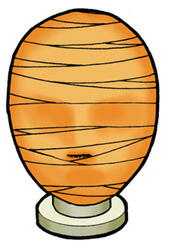 マネキン(美容室等にあるやつ)の頭に布の切れ端や

ガムテープで人の頭くらいの大きさまで肉付けしたものを用意します。

・・・と言ってもナカナカ用意出来ないと思うんで

自分の頭や人の頭を使っても大丈夫!

What fleshed out a mannequin's (fellow at a cosmetics room etc.)

head to the size like people's head with a chip, a gummed tape,

etc. of cloth is prepared.

It is OK even if it uses its head and people's head!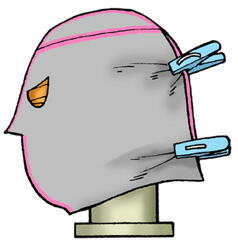 マネキン等にマスクを裏返しで被せます。

生地が弛まないように洗濯バサミなどで止めます。

It is inside-out to a mannequin etc. and a mask is put on him.

It stops with a clip etc. so that cloth may not slacken.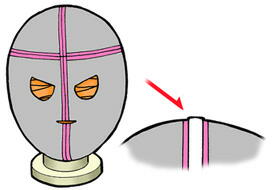 余った部分を折り返してボンドで貼ります。

(あまりボンドつけないように。慣れたらつけなくても良いです)

折り返したら8ミリ幅位の綿のテープを中央に貼っていきます。

The surplus portion is turned up and it sticks with adhesives. (A little more than attaching
and twisting adhesives. like.) if it gets used, it is not necessary to attach -- by return, if, the
tape of the cotton of 8 mm piece grade will be stuck in the center